The beauty of our gardens is based on a flood of plants, trees and flowers. In Japanese gardens, this is not the case. For most types of Japanese gardens, plants are also very important, but not their most important element.
Japanese gardens are characterized, among other things, by harmony, space, specific lines, a sense of Wabi and Sabi, enclosed privacy. To achieve this, elements and accessories are used. They are mixed with each other in such way they together achieve the balance, the line and the meditation feeling in the garden space. Each element has different meanings and can symbolize many things. It can be said that in a Japanese garden, nothing is accidental.
Water

Water is one of the fundamental elements of all styles of Japanese gardens excluding the so-called dry Zen gardens. Water levels in Zen gardens are shown by other elements: sand, gravel, stone. Both large and small lakes represent an ocean or a sea.
Streams and waterfalls

Streams and waterfalls bring movement and sound to space. Sound can be an integral part of Japanese gardens as well as visual elements.
Islands

The islands are another traditional element of Japanese gardens. They may be indicated only with a big stone or so large that a pavilion can be built on them. Some can be created to resemble a turtle or a crane, symbols of longevity and health, or the sacred mystical mountain Horai.
Bridges

A bridge in the Japanese garden often symbolizes the path to paradise and immortality. However it also often connects the mainland with an island and allows you to view the beauty of the garden. Bridges can be stone, wooden, arched, flat, depending on garden style. Some wooden bridges are painted red, but it is more linked to the Chinese tradition.

Bamboo fountains sōzu

Bamboo fountains, known as sōzu bring to the garden, among other things, the element of sound (just like waterfalls).

Fish, koi carp

Japanese koi carp and other fish bring into the water space wonderful colours and life.
Stone

Stone is another essential element of Japanese gardens. Mostly in gardens in the style karesansui – dry gardens, commonly known under name Zen gardens. Sand, gravel, and stone can even be the only elements that represent the image of the whole landscape, ocean (sand or gravel), islands, rocks and mountains (stones of different sizes).
Stepping stones

Routes and paths in the grass, through the sand or gravel "ocean", but also through a real water space. Stepping stones – ie. flat stones – are another element that can be found in every Japanese garden. Unsymmetrical fitting will allow you to experience a feeling of much greater distances.
Stone lanterns

Although the stone lanterns didn't use to be an essential element of Japanese gardens, in the western world they have become the symbol of them. And really there are not many Japanese-style gardens, where would not be at least one of the many variations of stone lanterns. They are also often used to create a Wabi feeling.
Stone statues

In Japanese gardens, there is the omnipresent idea of Buddhism. It is no wonder, therefore, that you can also find a Buddha statue there. Mostly inconspicuously placed and often covered with moss, which again brings to the garden the wabi-sabi feeling. In addition to the classic Buddha, there could also be found a statue of one of the most popular figures of Japanese Buddhism – Jizō Bosatsu (Bodhisattva). He is especially known as the protector of deceased children.
Fences and gates

Having a garden open to the rest of the world is very rare in Japanese gardens. The Japanese garden is often surrounded by walls or bamboo fences that prevent a carefully designed balance from the outside world. And the fence includes a gate, which is as a symbolic as an actual interface of the inner and outer world.

Teahouses and pavilions

In the past, many types of gardens have been designed to be seen from within a building such as a palace or a temple. Nowadays small buildings such as pavilions and teahouses are one of the elements of the garden.
Trees and plants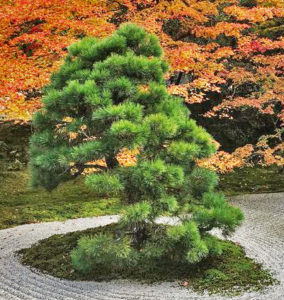 Trees and plants are not the most important element in Japanese gardens. Still, with most styles, the selection and composition of individual trees, shrubs, plants and mosses are very important. But that's already a topic for another separate article.

Please follow and like us: